Ways to Care for Wooden Furniture
Wood furniture has always been popular with people worldwide. It is difficult to find any home without some pieces of wooden furniture. Whether it is a sofa set in living room, or a fashionable dining table in kitchen, they all need proper care and maintenance.
If somebody thinks that weekly dusting is just what is needed to keep furniture in perfect shape, then he is mistaken. Wood furniture is susceptible to temperature, moisture, and light fluctuations. Therefore, this makes it necessary that one should devote more time in taking care of wood or teak furniture. However, caring for wooden furniture is not that difficult, and this fact should not scare homeowners. We are providing few tips that can help in maintaining the gloss and fashionable looks of furniture for years.
Cleaning wooden furniture
Although wood is a resilient material, but since most of the wood furniture is finished using wax or oil, it is necessary to use cleaning products that do not damage this finish. One should not use harsh chemicals or sprays, because they may cause their finish to dull and fade. Simple dusting using dry and clean duster can do the trick. In case, teak furniture has sticky marks, then one should apply natural furniture polish on a duster, and rub it gently in a circular motion for some time until it lifts. You can easily get this polish from any furniture store.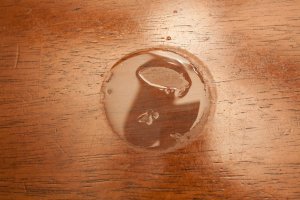 Avoid getting water on the wooden furniture
Although water is not as harmful if cleaned right away, other liquids may penetrate the wooden finish, and may leave a mark. Blot the spills instead of wiping them off as this increases the surface area of damage. One should put cups and glasses on coasters to avoid circular water marks when their bottom rests on the wooden surface for long period.
Keep wooden furniture away from direct sunlight and heat
Avoid placing wooden furniture near fires, or radiators as this can warp the wood. Sunlight can also cause wood to lose its vibrant appearance and it may fade away. Therefore , direct sunlight should be avoided in rooms where furniture is kept.
Oiling and Wax your wooden furniture
Wood or teak furniture has beautiful rustic appearance, as each wood type has its own specific characteristics. Wax and oil finishing not only enhances their lovely grain, but will also preserve and protect the wood, and stop water from getting in. To retain wooden furniture in top condition, it should be retreated every 12-20 months.
Eugene Ng loves dabbling in interior design and decorating. In her spare time, she writes articles regarding teak and other wooden furniture, be it dining tables, bedroom furniture or living room furniture. To see a range of her favorite teak furniture online, she recommends checking out at www.ethnicraft-online.com.sg.
Don't forget to learn these helpful tips on Buying Furniture Online
Watch this video and learn the unique yet amazing Ethnicraft Teak "Stretch" Table.